Celebration Sound D.J. Entertainers
Entertainment By Mark Steven Mroz
Music from Yesterday's Hits to Today's Hottest Sounds
(215) 3-DJ-Dance or (215) 335-3262






(215) 3-DJ-Dance or (215) 335-3262
(215) 3-DJ-Dance or (215) 335-3262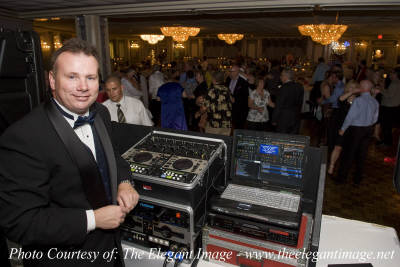 What our customers are saying about us!
Dear Mark,
We just wanted to say thanks again for making our wedding such a great day.
You did an amazing job and literally had everyone dancing from the start of our reception right through to the end.
I love looking at all the pictures you took through out the night.
Thank you so much!
Danielle Rooney
Ogden & Rooney Wedding
Dear Mark,

It's so hard to say in words how wonderful our wedding went with you. It is no wonder why you are in business so long.

The way you run a show is fantastic. You can tell that you are sincere and happy to be with your clients at their event.

When Sharon and I saw you that evening for the first time, we knew that all would be great.

You were so polite, friendly, professional and ready to go! We loved your song selections, your set-up, your lights, your knowledge of the latest songs and had everything ready to go as directed.

Mark, if we could clone you into a thousand Mark's the rest of the Disc Jockey's would be out of business because hands down, thumbs up, you are simply the best!

Great Job,

Tom and Sharon Loglisci
Loglisci & Mooney Wedding
Dear Mark,

Thank you so much for the wonderful job you did at our wedding.

I appreciated your set ups for the ceremony and cocktail party.

I loved your selections for the dancing.

The entire day turned out wonderful, thank you again for being a part of our special day.

Sincerely,

Kevin & Jamie Stansfield
Dear Mark,


Thank you so very much for your entertainment at our wedding. Between ourselves and our guests, we have all decided you were the best DJ we had ever come across.


There is not anyone I would not recommend you to. My husband and I know that the entertainment at a wedding is crucial and we were so happy to have you at ours. Thanks for keeping the party going and making our wedding so perfect.

Sincerely,

Renee & Jayson Becker
Hi Mark,


I have to tell you that my daughters' were skeptical when I kept insisting on trying to get you to do the wedding....only because these young-uns all think that Mom's don't know the first thing about being cool.....so how could we possibly know a cool DJ????????


Well, the night wasn't even half over and I am happy to tell you that all of the young-uns and oldies alike were telling me how wonderful you were. Many times I've been to receptions that don't even begin to "get moving" until the reception is at least half over.....if at all.
Last night there wasn't a moment that there wasn't some fun stuff going on. I knew you would pull it off!!!! After the reception was over and even into today, my girls and their friends were talking about what a great DJ you are.
I never once doubted that last night would be anything but fun......just because I've been at other functions that you were the DJ.....such as my Mom and Dad's 50th Anniversary, Parties at the Casbah and the wedding of Wendy and John Johnson who probably came up and said hello to you last night. But, it was seeing you at the Mitchell's party years ago that made my mind up that you were one of the best DJ's I've ever been around.

Thanks so much for doing such a wonderful job at my daughter's wedding. You made it a night that will give us all incredible memories for a long time to come.

I'm just hoping you'll be available when my younger daughter Michelle and her boyfriend decide to tie the knot. No date set yet I'm afraid!

Take care and have a terrific holiday season,

Marianne Pavie

Pavie & Hadley Wedding
Dear Mark,


Thanks again for the great job you did at our High School reunion.

Everybody was complimenting you. Like I said, people don't usually dance much at reunions but, you had the floor packed the whole night.
And I really appreciate how you helped out with the photographer. You didn't have to do that and you improved the situation tremendously.

I don't think we would've gotten the picture without you.
You're such a professional.

Thanks Again,

Kimberly (Mckee) Anderson
Mastbaum Class of 1984 Reunion Committee
Dear Mark

Just wanted to say thanks for helping make our joyous day great. We had alot of compliments on your performance.

Sincerely,
Dave & Coleen Karolyi

Dear Mark,


It is hard to believe we have been married 13 years now. Every time we see our friends or family members we haven't seen in a while they all comment on how they remembered our wedding, especially the way we all danced and partied and how the DJ (that would be you) seemed to play all the right songs to keep the party going.

Several of our friends followed by having you as their wedding DJ, and believe it or not you are now playing our kids Communion parties.
Eventually and hopefully you will play at their graduation parties and then their weddings.

Thanks again for the memories,

Chuck and Marianne Haig
Dear Mark,

We just wanted to drop you a note to thank you for the wonderful job you did at our wedding reception.

As soon as John and I started planning the wedding, you were the first person I contacted because I knew I wanted you to D.J. our reception.

From the time the guests walked through the door to the end of the night... You had everyone on the floor dancing. I even saw people that I never would have imagined out on the floor...My brother Jim for one!

Everyone had a fabulous time and to this day is still talking about the great music you played and that they had never been to a reception that was so much fun!

I was thrilled at the numerous compliments that I received regarding you and your skills.

You helped make a special day for John and I even more memorable.

You're the greatest!

Paula & John Holley

Caprio & Holley Wedding
Dear Mark,


Excellent job on the "Wheels of Steel". Everyone had a great time at our wedding, and we can thank you for that.
So Thanks again and keep up the good work.

Brian & Regina McCullion
Dear Mark,

Thank you so much for taking care of the music at our Holiday Party with such short notice! You were great as usual.

Can we book you for next year, the same first Friday in December, same place and same time? We would like to have you again!

Thanks Again,
Patrice Regan Silver
Silk Abstract Company
Dear Mark,
Rich and I wanted to thank you for doing such an excellent job as DJ at our wedding reception. All of our guests commented on how good the music was.
They especially liked when you had Rich's friends dress up as the village people, which was a big hit!

I will definitely let my friends know who are getting married, how good you were and give them your name and number.

Thanks again,

Jennifer & Rich Gramlich
Veasey & Gramlich Wedding
Dear Mark,

On behalf of my family and myself, I would like to thank you for the tremendous effort that you provided to make our holiday party a great occasion.

They say a good D.J. makes the party and that was the case at our holiday party this year.

Thank you for such an excellent job and see you again next year!

Sincerely,

Linda Thackray
Thackray Crane Rental, INC .
Dear Mark,


We just wanted to thank you for the great job you did at our reception!
They were a pretty tough crowd being mostly older and it was an afternoon event. Jim and I had a great time and were both happy with the job you did.
Thank you for being so organized and for organizing us! We did not know what to do next and you saved the day.
Sincerely,


Theresa Leydon
Dear Mark,

Thanks so much for making our special day the most fun it could be!

Sincerely,

Amy & Matthew Raudenbush
Dear Mark,

Now that I have fully recovered from Saturday, I just wanted to take this opportunity to thank you for helping to make my mother's party a complete success.

For the past few days, we have been receiving calls from the guests and they all say they truly enjoyed themselves and the music.

I also wanted to thank you for staying through to the end of the party given the bad weather conditions, you went above and beyond the call of duty.
I hope you didn't have too much trouble getting home.

Once again, thank you so much for making the party special for my mother.

Very truly yours,

Joanne Dougherty
Dear Mark,

Thank you so much for donating your time and doing a great job at Jimmy's Benefit.

We rose close to $18,000 towards the cure of SMA.

Hugs from,

Jimmy & Lorraine Contento
Dear Mark,


Thank you again for a great night of entertainment.
Everyone enjoyed the music and especially the trick on the best man during the garter toss, were still laughing.

Once again thanks,

Michael & Dawn Grasso
Dear Mark,

Steve and I can't thank you enough for the wonderful job you did at our wedding. Everyone was raving about how fabulous the music was.

You really made the day "extra special".
We would gladly recommend you to everyone!

Thanks again,

Donna & Steve Burke
Dear Mark,

Thank you for the great job you did at the last dance. You really had them up and dancing!

Thank you again,

Sister Donna
Little Flower Catholic High School For Girls
Dear Mark,

Denise and I wanted to thank you very much for the tremendously good job of entertaining and hosting our wedding reception at the Glen Ford mansion.
That you were able to fill the dance floor in the tent during the torrential rain of that evening is a true testimonial to your ability to inspire people with your manner and music to enjoy themselves no matter what the conditions!
We are very thankful for your contribution to our wedding evening.
We would love to have you entertain for as again in the future.

Appreciatively,

Denise & Mark Keegan